Last Christmas I made a Gingerbread House for the first time, well, a Fair Isle knitting patterned
Shetland Pepperkakehus
to be specific. It was a massive thing which sat on the kitchen counter top for two weeks before the children gleefully smashed it to smithereens while eating bits and pieces off it on Christmas Day. I detest food waste and there was just no way we were going to be able to eat our way through such a large gingerbread house before it went stale, so I finished what the children started and ground the gingerbread house down to crumbs in my food processor. I popped them in the freezer for use at a later date as a dessert base and
shared the idea
in December's No Waste Food Challenge, which was all about
Christmas leftovers
.
Last month
Helen from Fuss Free Flavours
and
Camilla from Fab Food 4 All
launched their Credit Crunch Munch food bloggers challenge, challenging us to share our frugal food recipes. Despite a massive number of entries there was not one single pudding recipe! So this month Camilla has asked us to share our frugal pudding recipes. I immediately thought of my gingerbread crumbs in the freezer. That's pretty frugal, isn't it? How many uneaten gingerbread houses ended up being dumped after Christmas? I had idea to adapt one of my favourite childhood puddings:
the pineapple square
. The original recipe has a buttery graham cracker crumb base, a layer of buttercream and it is topped with a layer of whipped cream to which crushed pineapple has been added. Surely this could be adapted to use a ginger base?
I initially wasn't going to blog this recipe as I wasn't particularly fond of the result. I ate quite a few (most!) of the squares, mind, but it's not something I'll make again. Saying that, I think I overcooked the base so it was too crunchy, like a gingersnap. I added an extra five minutes cooking time as the base didn't look ready after 15 minutes - it likely was, but being such a dark brown it was hard to tell. It had a slight burnt sugar taste to it too, which I didn't care for. I think perhaps my particular gingerbread recipe, with its copius quantity of treacle, doesn't make a good base. I'm also thinking that this recipe might work well with crushed gingernut biscuits instead, should you want to recreate it.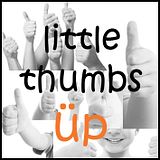 Like I said, I wasn't going to blog this recipe, but then I saw another new food bloggers challenge by
Bake Happy for Kids
and
My Little Favourite DIY
called
Little Thumbs Up
which aims to get families cooking together. My children were very much involved in the preparation of this dish, and they very much enjoyed the eating of it, so even though I wasn't that keen on it my children certainly were. When it comes to cooking for a family the ultimate test is whether the children will actually eat it or not, and they did, happily, so it must be a winner! This month's Little Thumbs Up theme is pineapple, so that made my decision for me. I've blogged the recipe and have submitted it, an adaptation of my grandmother's pineapple square recipe, to this new challenge as it certainly did get little thumbs up!
This pudding was my entry to our own family Come Dine with Me competition - this is something we do as a family each month to help get the children involved more in cooking. We each take turns preparing a meal (the little ones sometimes help out too, with much guidance). A starter, main course and pudding is prepared and served and then we rate each other, secretly, out of 10 on flavour and presentation. The winner at the end of the month wins the coveted
Golden Spaghetti & Meatballs trophy
for the month. I think I may have scored highly with the children with this dish!
Incidentally,
my gingerbread house
won The Daily Dish First Annual Gingerbread House Competition over in America! They interviewed me,
featured me in their Spotlight Interview
and sent me an awesome embroidered chef's apron made by the talented Cynthia Landrie from
Feeding Big
as my prize. Please do go and read what they wrote (and comment so I don't feel so silly for sharing so much about myself!).
Caribbean Dream Squares
A crumbly biscuit base topped with buttercream, fruity whipped cream and coconut.
Ingredients
200 grams

gingerbread house crumbs or ginger nut biscuits, crushed

220 grams

icing sugar

234 grams

butter, divided

1

432 gram tin of crushed pineapple

1/2

mango, finely chopped

300 ml

whipping cream

1 heaped tbsp

coconut, lightly toasted
Instructions
1. Preheat oven to 160 C and grease a 9 inch square baking tin.
2. Melt 117 grams of the butter in a small saucepan on low heat.
3. Stir in the gingerbread house crumbs and press into the base of the prepared tin.
4. Bake for 15 minutes. Remove from oven and allow to cool.
5. Blend together icing sugar and remaining 117 grams of butter with enough pineapple juice from the tin to make a spreadable consistency.
6. Spread over the biscuit base.
7. Drain the crushed pineapple well.
8. Whip the cream and fold in the crushed pineapple and chopped mango.
9. Spread over the buttercream layer and top with the toasted coconut.
10. Chill for several hours in the refrigerator before cutting into squares.
Details
Prep time:
Cook time:
Total time:
Yield:
16 squares
I have also entered this recipe into another food bloggers challenge:
A Taste of the Tropics
by Chef Mireille's Global Creations. This month the theme is pineapple.